Pubdate: July, 1945
Source: Davison's Textile Blue Book with Textile Buyers Guide and Maps
With which is Consolidated Dockham's American Report and Directory, Established 1860
Davison Publishing Co., Ridgewood, New Jersey
Pages: 434-439, 1186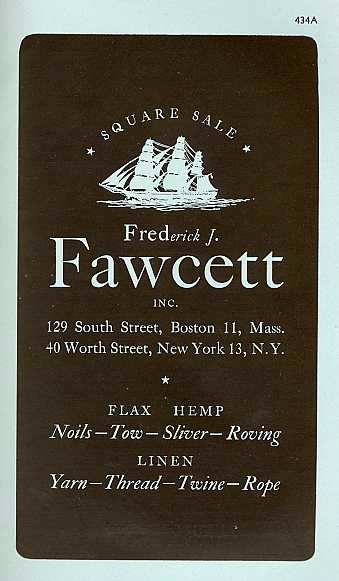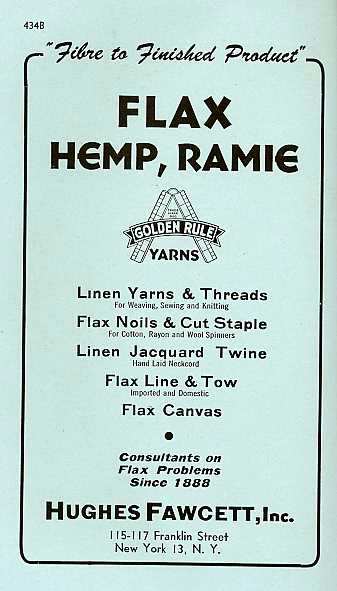 Jute Manufactures, Including Linen, Hemp, Sisal, Manila, Flax, ect.
KENTUCKY
FRANKFORT, Franklin Co. (N) Pop, 11492. RR 82, 167, 253
Kentucky River Mills. Cap. $250,000. D.D. Stewart. Pres.: C.B. Stewart, Sec.; C. Anderson, Supt.
Hemp Wrapping Twines & Oakum.
LANCASTER, Garrard Co. (C) Pop. 1,999. RR 253
Marksbury, Frank B. Hemp, Tow and Wool
MASSACHUSETTS
BOSTON, Suffolk Co. (E) Pop. 770,816. RR 48, 49, 50, 329
U.S. Navy Yard. (The Ropewalk, Boston, 29.) T.J. Kaes, Master. C., Hemp, Flax & Manila Cordage & Rope, Assortment Braided Lines, Cotton & Flax, & Fish Lines. 40 Braiders. 182 Tw. Sp. Elec. Emp. 528.
NEW BEDFORD, Bristol Co. (SE) Pop. 110,341. RR 329
New Bedford Cordage Co. Court and Ash Sts. Est. 1842. Inc. 1846. Cap. $450,000. F.A. Bryant, Chairman of Board. Manila and Sisal Cordage, Tarred Hemp Goods. General Offices, 233 Broadway, N.Y. Branch Offices at 31 St. James Ave., Boston, Mass.; 325 W. Huron St., Chicago, Ill.
PLYMOUTH, Plymouth Co. (SE) Pop. 13,000. RR 329
Plymouth Cordage Co. Est. 1824. Cap. $8,000,000. A.P. Loring, Jr., Chairman. Hemp, Manila and Sisal Cordage, Binder Twine and Tying Twines. Also Standard Fiber, Nylon and Glass Rope. Sell Direct from mill.Sales Offices at 296 State ST., Boston.
Textile Machinery and Supplies for Cotton, Woolen, Rayon, Nylon, Silk, Knitting, Jute, Hemp and Linen Mills; Dyers, Finishers, Bleachers and Printers
From page 1186:
HEMP (all located in New York)
Bingham & Co., Inc.
Fyfe, James,
Hicks, Daniel M., Inc.
Krejtman, A.A., Inc.
Pritchard, R.L., Inc.
Smith & Bird
Smiles, Christopher
Stone, Harry
Wahlers, John H., Corp.