PLANTS USED IN CLOTHING & CORDAGE
PLATE XVIII
1877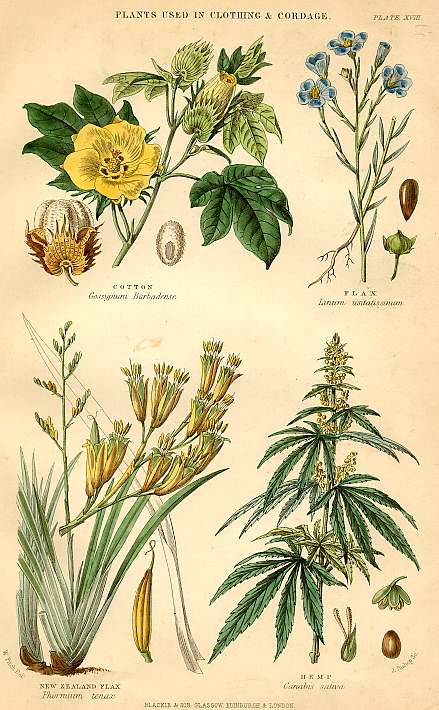 From left to right starting at the top:
Cotton - Gossypium Barbadense
Flax - Linum usitatissinum
New Zealand Flax - Phormum tenax
Hemp - Cannabis Sativa
---
SOURCE:
A HISTORY
OF
THE VEGETABLE KINGDOM;
EMBRACING
COMPREHENSIVE DESCRIPTIONS OF THE PLANTS
MOST INTERESTING
FROM THEIR USES TO MAN AND THE LOWER ANIMALS;
THEIR APPLICATION IN THE ARTS, MANUFACTURES, MEDICINE, AND DOMESTIC ECONOMY; AND
FROM THEIR BEAUTY OR PECULIARITIES; TOGETHER WITH THE PHYSIOLOGY,
GEOGRAPHICAL DISTRIBUTION; AND CLASSIFICATION OF PLANTS.
BY
WILLIAM RHIND
REVISED EDITION, WITH SUPPLEMENT.
ILLUSTRATED BY SEVERAL HUNDRED FIGURES, MANY OF THEM COLOURED.
LONDON:
BLACKIE AND SON, PATERNOSTER BUILDINGS, E.C.;
AND GLASGOW AND EDINBURGH
1877.