Publication date: November, 1938
Source: The Structure of Economic Plants
Chapter VIII
MORACEAE
CANNABIS SATIVA
Author: Herman E. Hayward,
Professor of Botany, The University of Chicago
Pages: 214 - 245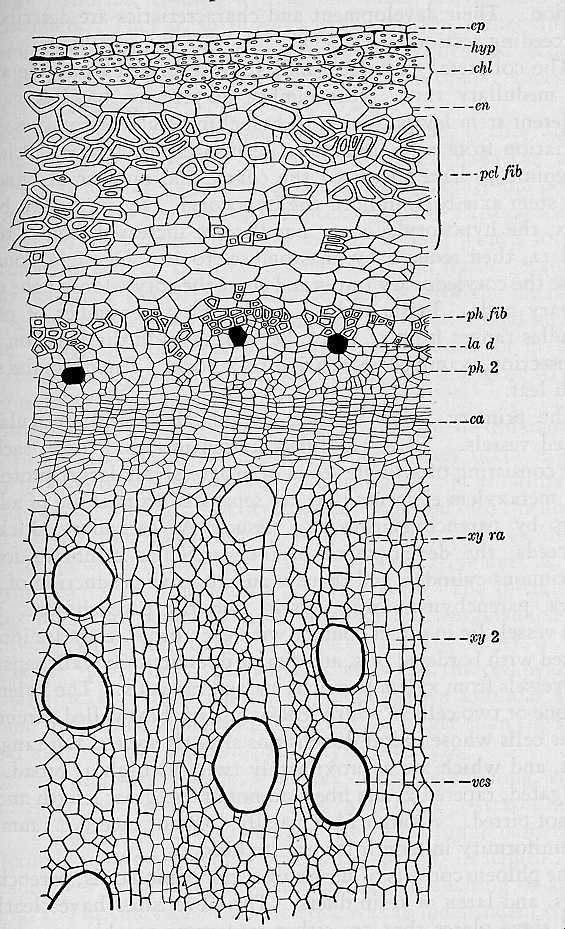 A sector of transection of nearly mature stem showing development of pericyclic and phloem fibers.
EXPLANATION OF ABBREVIATIONS:
ca, cambium; chl, chlorenchyma;en, endodermis; ep, epidermis; hyp, hypodermis; la d, latex duct; pcl fib, pericyclic fibers; ph fib, phloem fibers; ph 2, secondary phloem; ves, vessel; xy ra, xylem ray; xy 2, secondary xylem. The primary xylem, pith, and central cavity are not shown.
---
The following images provide a high level of detail of various parts of the cannabis hemp plant: